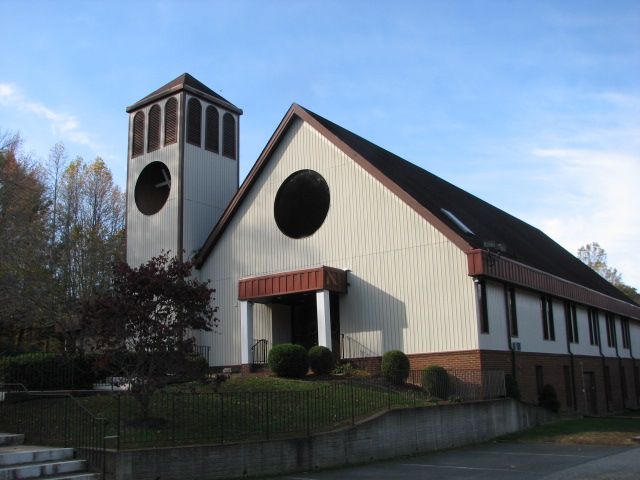 Highway Assembly of God began in the early fifties as a home missions church of the Potomac District. Rev. John Bryant and Rev. Eugene Wolfe were among several commuting ministers who held meetings in a small, one-room "portable tabernacle" on Claiborne Ave. in Chatham Heights.
In the 1955, Rev. Bob and Ruth Revell assumed the pastorate of the small church. After meeting in the portable tabernacle for several years, the church sold the Chatham property for $4,000 and purchased the old Falmouth Baptist Church building on the Rt. 1 highway just across the Falmouth Bridge for the astronomical sum of $10,000.  There for over nine years, Pastor Bob and Ruth lived in an apartment built in the back of the church. These rooms, including bedrooms, also served as Sunday School rooms, fellowship hall, or whatever. Later, the Revells were able to build a house on a small lot "next door" that also served for Sunday School space and a fellowship hall. It also provided some parking.
In the early 1970s, the church began the long process of purchasing the current property adjacent to Jefferson Davis Highway, and designing a new facility. After fruitlessly looking for a contractor who could build within the church's financial means, the congregation decided to take on the task themselves. Blessed with expertise, craftsmanship, and equipment that God provided – including an assistant pastor who was first class mason, a director of youth who was a plumber, and some people who were not afraid of holes or heights – the congregation was able to move into the fellowship hall in July 1979 and then into the sanctuary on Easter of 1980.
Pastor and Ruth Revell retired in October 1989, and were followed by Rev. Orville and Lucille Thomas. Rev. Tom and Anna Godfrey became our pastors in the Fall of 1994 and were succeeded by Rev. Derel and Diane Peterson in April 1997. After Pastor Peterson resigned in late spring of 1999, Rev. Dick and Catherine Jackson became the church's pastors in June 1999. Pastor Dick had been a part of Highway Assembly of God since 1980, when he first moved to Fredericksburg. Having loved and been a part of this church for two decades, Pastor Dick considers it a wonderful privilege and blessing from God to be able to serve as pastor.
Heritage
Looking at the facilities that house the congregation and ministries of Highway, it is obvious that the church is built on a foundation of great vision and faith. The name Highway was chosen from Isaiah 35:8 which indicates that this church is for everyone who is traveling on this "Highway of Holiness." Our golden text, 2 Corinthians 4:5 "For we preach not ourselves but Christ Jesus the Lord; and ourselves your servants for Jesus' sake," reminds us that everything that we do is centered in Jesus Christ, and He is the Way by which we are able to walk this "Highway of Holiness." As servants of God, one another, and the unsaved, we minister Jesus in the power of the Holy Spirit.
Hope
We have great hope as we look towards the future. Our mission statement declares: Our purpose is to minister to the Lord, to minister to one another, to equip the saints, and to minister to the world. This declares our heartfelt desire to be worshippers of God in spirit and truth, to be committed to meaningful fellowship with one another, to be discipled and grow in our relationship with Jesus, and to reach out to the many lost people around us.
Great days are ahead for the Highway Assembly of God fellowship.  We believe that God is wanting to make this church a center of ministry to our community and our world. We will do this as we wait on God, seek His will, and allow ourselves to be filled with the Holy Spirit and anointed for His service.